Facials
FACIALS
A facial is a deep cleansing treatment applied to the face for healthy skin hygiene. Facials are designed to eliminate clogged pores, blackheads, and other impurities affecting the appearance of the skin. Facials can incorporate several different steps that can include the use of creams, masques, peels, steam, exfoliation, lotions, and massage. These treatments were once thought to be only for women, but today many men are getting facials on a regular basis as well.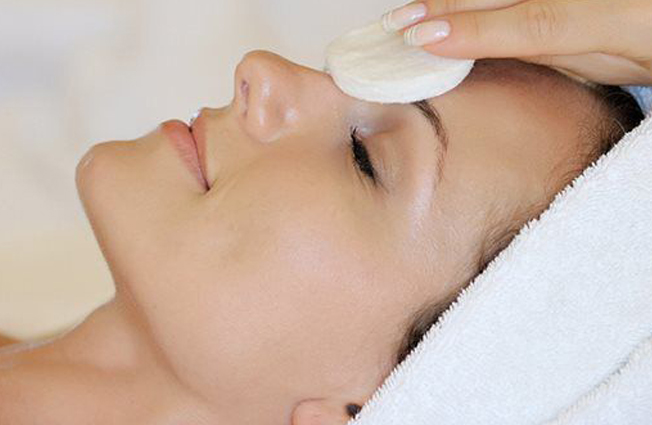 Facials – Frequently Asked Questions
A facial usually lasts about one hour.
We offer corrective treatments for all your skin care concerns. Our clinical aestheticians will evaluate your skin and design a treatment regimen best suited for your concern.
DEEP PORE FACIAL
All skin types, safe for pregnant women
Reveal your healthy glow with this highly effective yet gentle facial that offers a natural alternative to chemical peels. Skin texture will be visibly refined and complexion clear and hydrated.
60 minutes $99
Add-in Blackhead Extractions: +$15

Clarifying Anti-Acne Facial
The acne eliminator! Clarifying Anti-Acne Facial is ideal for men, women, and teens who battle oily skin and acne flare-ups. Our acne facial is designed to give your skin a deep cleanse through a combo of steam, salicylic cleansers, exfoliation, extra extraction time, and a variety of serums to dissolve sebum.
A mask blasts oil and purges impurities, while calming agents and cold compresses mellow out and clarify the skin. Your esthetician will finish with a moisturizer that won't leave you oily and or UV protection.
60 minutes $115
Extra 15 minutes Extractions: +$25
Lactic Brightening Facial W/Extractions
This treatment diminishes dark spots by utilizing the latest innovations in skin lightening and exfoliating technology. Skin tone is immediately improved, providing a glowing, radiant complexion.
60 minutes $140
VITAMIN C FACIAL
This ultra-hydrating, antioxidant-rich facial provides nutrition to repair aging skin, treat environmental damage and improve skin health. Ideal for all skin types including sensitive and rosacea.
60 minutes $125
Custom Designer Facial
Head to Nassau's top facial spa for Skin Solutions signature Custom Designer Facial, specially tailored for your skin type. This 60-minute facial treatment will nourish and rejuvenate your face, making your skin First, your esthetician will complete a thorough skin analysis to determine your specific skin care needs. Then select the appropriate cleansers, mask and serums to treat your individual skin type. Skin Solutions Custom Designer Facial treatment includes cleanser, steam, exfoliation, mask, extractions, hydration, sun protection and a relaxing arm, neck and shoulder massage.
60 minutes $110
Gentleman's Facial
The Gentleman's Facial combines deep pore cleansers, exfoliators, and a customized mask. Plus, serums and moisturizers to leave your skin purged of impurities and looking youthful.
Hot steam towels, extractions and a relaxing arm, neck & shoulder massage round out the facial experience. Bonus: it's great for treating ingrown hair.
60 minutes $110
Advanced Corrective Facials
Express Dermaplaning Facial
Get rid of that peach fuzz on your face and get luminous, glowing skin with Skin Solutions Express Dermaplane Facial. First, your esthetician will review and cleanse your skin. Next comes dermaplaning. A medical-grade scalpel will be used to gently scrape across the surface of your skin to remove dead skin and vellus hairs on the face, and lightly exfoliate the skin's surface. Moisturizer, serums, and sunblock put the finishing touches on this fantastic facial.
30 minutes $110
SOLUTIONS BRIGHTENING PEEL W /DERMAPLANING
This two-step treatment combines lactic brightening peel with dermaplaning (skin resurfacing),
This treatment may be customized to accommodate all skin types. The treatment is the ideal facial peel for reducing the appearance of fine lines and wrinkles, hyperpigmentation, texture, laxity, dullness, and skin imperfections. This is an instant gratification skin peeling treatment with no downtime.
60 minutes $165
MICRODERMABRASION FACIAL W/EXTRACTIONS
Our microdermabrasion is a technique for removing the topmost layer of skin leaving it supple and vibrant. The wand removes this layer of skin by gently abrading the skin with natural diamond chips while at the same time vacuuming the dead skin cells away in a sterile and controlled manner. Removing this outer layer of skin leaves a smoother texture and promotes new cell growth.
60 minutes $135
Dermaplaning Facial w/Extractions
Dermaplaning is a simple, safe and painless procedure for exfoliating the epidermis and ridding the skin of fine vellus hair (peach fuzz) with the use of a sterile scalpel. Dermaplaning brightens complexion and allows for better absorption of products.
Recommended every 4 weeks.
90 minutes $140
BETA CLEAR FACIAL W/Extractions
Get twice the exfoliation with this anti-aging facial, designed to clear skin of acne and sun damage, like spots, wrinkles, and uneven texture. This facial is ideal for those with adult acne who are concerned with aging issues. It is not suitable for those who are allergic to aspirin.
60 minutes $140